21 Savage helps Drake focus his sound on Her Loss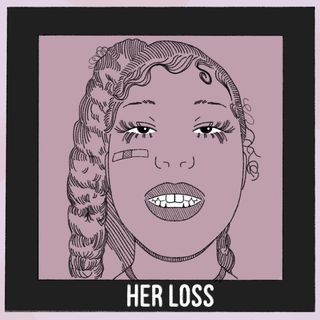 RATING: 7.5/10
2022 has been an interesting year for Drake. After 2021's high-selling Certified Lover Boy, 2022 seemed to lead Drake downhill. He stopped taking risks and still sounded unsure about his upcoming plans. Then came the album—Honestly, Nevermind—that was announced only 5 hours before release. Drake switched genres completely, with 14 tracks of almost pure House music; the only exceptions were the Rap-House blend on Sticky, the DJ Screw inspired slow RnB cut on Liability, and the Memphis-Inspired smash hit Jimmy Cooks with 21 Savage, who was the only feature on the album. 
The problem with Honestly, Nevermind was that it definitely wasn't Drake's best work. The 3 non-House tracks were the main highlights, while the rest of the album made for fine club or background music. Sme corners of the internet tore it to shreds, making fun of the strange high pitched singing on Falling Back and the laughable Jersey Club inspired bed creaking sample on Currents; however the main takeaway from the album was positive: Drake wasn't afraid to change it up anymore. So when the Jimmy Cooks music video came with the announcement of a collaborative album with 21 Savage titled Her Loss, most people held out hope.
Drake and 21's get-togethers are always exciting. Their first collaboration, 2017's Sneakin', was a dark banger, and introduced Drake to 21's world. Mr. Right Now off of 21 and Metro Boomin's producer-rapper album Savage Mode II saw their further collaboration as they were meeting in the middle more, and it is my personal favorite from their original collabs. Knife Talk on Certified Lover Boy leaned heavily into the Memphis sound (despite neither rapper being anywhere near Memphis). While this track failed to properly showcase both artists capabilities, it was a huge hit and one of the most streamed songs in the album. With Jimmy Cooks as the most acclaimed and the most popular track off of Honestly, Nevermind, the album Her Loss was set up to be huge. With a release date right before Halloween (21's collaboration with Metro Boomin and Offset Without Warning was released on Halloween in 2017, often heralded as one of the best trap albums of all time), it looked like we were in for a dark, ruthless album in line with 21's signature sound. Sadly, the album was delayed a week later due to the main producer Noah 40 getting Covid.
If it wasn't clear enough already, this album is about Drake. 21, while consistently great throughout the album, is really here just to guide the sound so Drake can actually stay cohesive for the 16 tracks. There is also just one feature on the album, aside from Lil Yachty's ad libs on Major Distribution and BackOutsideBoyz, which is Travis Scott on P*ssy & Millions. Travis Scott does a fantastic job, but the lack of features really helps Drake prove that he can still produce a great, cohesive album on his own. This album's production had Drake the most focused on his music since 2019's brooding and lowkey Dark Lane Demo Tapes, which itself was an outlier, as most of Drake's work past What A Time To Be Alive had been similarly scattered. The beats of Honestly, Nevermind are simple, dusty, and energetic, with loud horns, hard hitting pianos, and the occasional vocal sample. The lyrics are also a standout, for better or worse, as Drake and 21 have plenty of funny punchlines. 
I noticed that Drake has four solo tracks on the album, while 21 only has one. Drake also dominates the length of most tracks, further showing that this album revolves around him. Still, the songs are usually very enjoyable, with cuts like Rich Flex, Major Distribution, and Broke Boys being hard hitting bangers that everyone wanted and expected from this Drake album. I think Privileged Rappers might be the best beat on the album; the lowkey horns are perfectly paired with Drake and 21's less aggressive delivery in this track, creating a unique yet enjoyable experience. Middle of the Ocean sounds like Drake getting into the same hard rap he did in Tuscan Leather without feeling like he's trying to recreate songs like Champagne Poetry from Certified Lover Boy. The effortless beat switches and endless one liners stop the track from becoming boring or repetitive despite its six minute length. P*ssy & Millions is one of the best rap songs of the year, and Travis Scott's fantastic verse just builds even more excitement as we anticipate his upcoming album Utopia. There are still some dull moments, like the strange Hours in Silence, which is great for the first two minutes, before falling apart for the next four when the beat is stripped back so it becomes primarily just drums, and Drake sounds like he's talking in his sleep. 
With the help of 21 Savage, Drake was able to produce this album that has revitalized the hype for his new music, building excitement for his upcoming releases.