Poke+ Review: the plus is in the pricing
Critic rating: 6.5/10⭐️
Poke+ is among the wave of new, modern, and minimalist food spots that have moved into the Forest Hills neighborhood. Just off Austin Street, a popular spot for Harrisites on their breaks, the new shop takes over a former travel insurance agency. It has a sleek and modern look with an open poke bar in the front and a boba bar in the back. Although it has only been open for around a month, I decided to grab lunch there for the experience.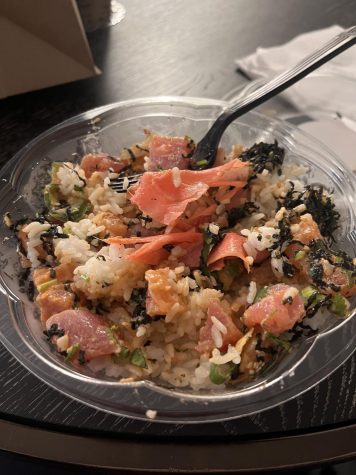 I built my own poke bowl with white rice, spicy salmon, ahi tuna, sriracha mayo, scallions, cilantro, nori, jalapenos, pickled ginger, sesame seeds, and nori.
One small issue I immediately noticed was that the service was slow. Although the counter is set up for an assembly-line style process, similar to what's seen at Chipotle, each person had one employee build their entire bowl. This made the process slow, and I imagine that during busier periods, I would have had to wait for a while. While many of these issues can be attributed to teething problems as they adjust to running the counter, it is something to note if you visit during a busy period.
The rice was warm, fluffy, and the fish was fresh and had a great texture. However, my fears came true when I realized that the rice to poke ratio was off. While the entire bottom half of the bowl was rice, there were only two scoops of poke on top. This did not allow for the perfect one-cube-of-fish-in-each-bite ratio, and in many bites, I found myself solely eating rice.
I appreciated the wide variety of toppings and sauces, and they made the bowl exactly how I liked it. The toppings were fresh and complemented the rest of the bowl, which made up for the bites that lacked fish. They also let you try sauces upon request if you are indecisive.
The bowl was undoubtedly delicious, but the price was not appealing. At $15 for a bowl with what I considered to be enough fish, it was more expensive than a Chipotle Bowl with Guac, and I have even left Sweetgreen with a sub-$15 purchase. While I would definitely return, I am not sure if I would make it a regular spot due to the price-to-product ratio.