A Blast to the Past ft. Two Childhood Games
Adam Sayah, Technology Review Editor
April 26, 2023
Few video games are as iconic as Subway Surfers and Angry Birds, which, along with trading Silly Bandz and convincing parents to buy iPads, consumed almost every 2000s child's earlier years. Nowadays mobile gaming has skyrocketed in popularity; at a time when a new mobile game tops the charts each week, how have these iconic 2010s games stayed true to their original versions?
Subway Surfers
Subway Surfers, a phrase used to refer to those who illegally ride on top of train cars, is also a mobile game that was released in mid 2012. Recent accidents due to the practice exemplified in the game and a series of YouTube videos that imagined what the game would look like if it was designed for modern computers have brought Subway Surfers back into the public eye. These two developments have helped Subway Surfers reach over 4 billion downloads, which is almost two and a half times the number of people who ride on the New York City Subway each year (as of 2019). With all of this new buzz surrounding the game, it warrants a fresh look.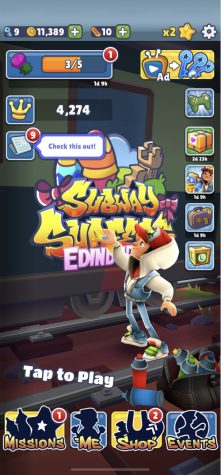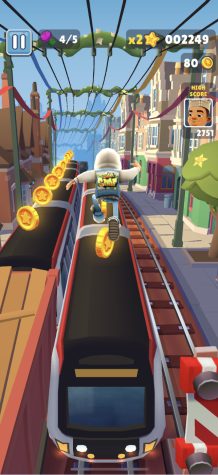 To put it plainly, the fundamentals of Subway Surfers have remained the same while quests, customization, and advertisements have consumed the experience. First, just like in years past, Subway Surfers honors a new city each month by including unique buildings, characters, boards, music, and tokens. This month's theme was Edinburgh, Scotland, better known as the filming location of the Harry Potter movies, or personally, the setting of Forza Horizon 4. Nevertheless, this "world tour" keeps the game interesting while introducing players to new cultures and locations.
There is plenty to dislike about the game, though. For one, the main menu is littered with icons advertising Subway Surfers sequels, limited edition collectables (accessible via in-app purchases), player statistics, etc.. As a result the game feels cluttered, bringing attention away from playing the game itself to buying $20 characters or $100 credit boxes. If you can look past the flashy icons and in-app purchases, however, Subway Surfers still provides a brief yet fun playing experience backdropped by a catchy theme and changing setting.
Angry Birds
Few mobile games have reached a level of popularity that warrant a full Hollywood adaptation, let alone two, but Angry Birds fits the bill (or beak). Released in late 2009, Angry Birds has captivated players across the globe for its strange characters (exploding birds, quick yellow birds, frozen birds, and green pigs just to name a few) and game mechanics (slingshotting said birds into structures protecting said pigs). Just this month, Rovio, its parent company, was acquired by Japanese entertainment company SEGA for nearly $1 billion, a pretty penny for an interactive bird vs. pig conflict. While the first Angry Birds game is no longer available on Apple's App Store, its sequel, Angry Birds 2, is the second best option for review.
Similar to Subway Surfers, Angry Birds is just as thrilling, but contains significantly more advertisements than the past. Whether it be ads selling other Angry Birds games or completely separate games, they are sprinkled throughout the game; in menus, between levels, and even to obtain more "lives" to continue playing. Additionally, I found the new power-ups to be quite confusing without any clear description of what they do or why they are recommended to use before each level. I eventually resorted to tapping buttons hoping that the level would start whether or not the power-ups are equipped. While this may detract from the overall experience, the unique settings, creative structures, familiar characters, and funny sound effects elevate the basic Angry Birds experience while still holding true to its roots as an amusing, care-free physics-based game.