Mango Mango now on Bell- what are our thoughts?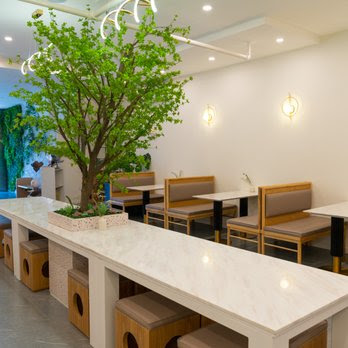 Critic rating 8/10 ⭐️
Recently Mango Mango, a well known dessert spot among Harrisites, has opened up on Bell Boulevard. Mango Mango has an assortment of desserts ranging from ice cream, frozen yogurt, bubble tea, and more—of course, with the signature Mango flavor. If Mango isn't your thing, they also have a great variety of desserts with flavors inspired by Asian classics such as matcha, ube, durian and more. 
During my time there, a friend and I ordered the A6 (Mango juice with glutinous rice ball and ice cream) as well as the 105 (triple ice cream delight). 
The A6 had a delectable Mango flavor, with ripe mangoes, soft chewy rice balls on top, as well as creamy Mango ice cream. Oftentimes when dessert places offer fresh fruit on top of the dish, they are not the best quality. However, the Mango on top of this dish was actually sourced well. It wasn't an unripe, overly sour Mango, but rather a tart, sweet one. The Mango juice was as to be expected— flavorful—and the rice balls had a great texture. They actually were quite warm when first biting into them, which shows their freshness. If you've ever visited the Flushing location, then you won't be disappointed with the quality here. 
The 105 had three flavors of soft serve ice cream—Mango, vanilla, and matcha—which lay on a bed of whipped cream drizzled with chocolate syrup and topped with chocolate wafer straws. The ice cream was very creamy and the flavors stood out well. Other than the flavors however, this was just like a regular ice cream dish. Solid but not astounding. 
Although the Flushing location is very accessible for us Harrisites (just a quick trip on the Q44 bus), the Bayside location is also a great alternative. It's the perfect spot to grab a quick bite with your friends, as Bell Boulevard contains a multitude of restaurants. The taste of the dishes are pretty standard no matter where you go, so if location is the deciding factor for you, I definitely recommend trying out this one.