Gregorys Coffee: can a swanky storefront stand-up to Starbucks?
Critic Rating: 8.5/10 ⭐️
It's not hard in New York City to get your daily fix of caffeine. Among the plethora of indie cafes, bakeries, Starbucks and more, Gregory's stands out as an interesting contender. It's a small but growing string of cafes with a very modern yet cozy interior, coming with a very unique and diverse menu. All of their coffee is roasted locally in Long Island City, and they bake all of their pastries on site in each bakery. They have the classics, lattes, cappuccinos, you name it. But they also have a cold brew bar with a whole host of interesting flavors. Some standouts are a Nutella infused cold brew and a vanilla and oat milk concoction. They also have some more niche drinks: coffee topped with protein powder, a blue biotic energy drink, and more interestingly, "Love Affair," a strawberry chocolate latte with 20 mg of cannabidiol (CBD). 
It's clear that they are trying to stick to their slogan, "See Coffee Differently," and their menu reflects their efforts to make coffee more interesting and unique. Many Harrisites migrate to Forest Hills to get their Starbucks fix, but Gregorys serves as an interesting alternative just across the boulevard. So when I finally got word of their Forest Hills location opening after their sign had been hanging tantalizingly for the better part of six months now, I was quite eager to give it a try. 
Salted Caramel Cold Brew: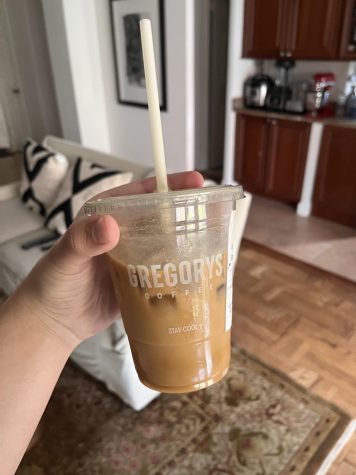 Gregory's makes its cold brew a central part of its menu—and for good reason. The cold brew is strong, however the coffee is really good, not too bitter, and not too watery. The salted caramel variety contains the perfect amount of salted caramel mixed with cold brew and oatmilk. The caramel is noticeable, yet not overpowering, and really plays well with the coffee. It's a good amount of sweetness, and if you want an extra kick that really brings out the rich caramel flavor, add a shot of simple syrup. This would be my go-to recommendation for someone who wants to get into the cold brew game. 
Honey Badger Cold Brew: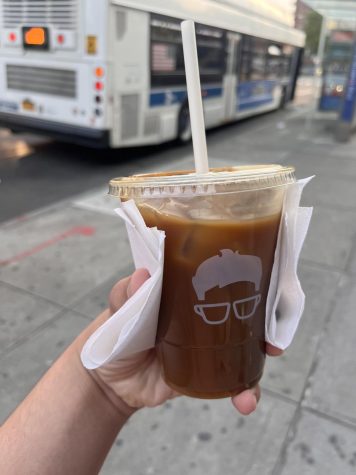 The other cold brew variety I tried was their Honey Badger flavor, which is cold brew and oat milk infused with honey. I really like this one. The brew is a little stronger than the salted caramel, and the sweetness is a little more subtle, but I think the honey works pretty well. It's a light flavor at the tip of each sip, but I enjoy how sippable and less chuggable this one is. It's my go-to when I need to commute. 
Blueberry Muffin: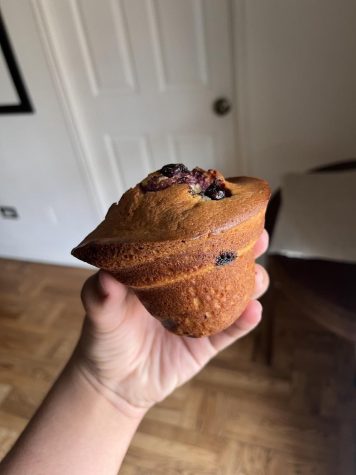 This is the one area that I think Starbucks has no competitive edge: the baked goods. All of Starbucks's items are severely overpriced because they come out of a package, and I have never been too impressed with their offerings. However, Gregorys puts a lot into their bakery section. Everything is baked fresh at each location and is priced similarly to Starbucks. The blueberry muffin was amazing. It was warm, crunchy on the outside and cakey, soft on the inside. The blueberries were also super fresh, bursting with flavor, and blueberry juice. It wasn't too sweet, and it didn't taste packaged or artificial. If you enjoy baked goods, I would highly recommend Gregorys Coffee. 
Overall, with its fun coffee and fresh baked goods, Gregorys is a great alternative to Starbucks. They also have a very competitive loyalty program, and I definitely see myself returning.