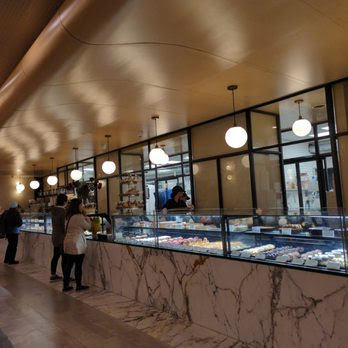 The French Workshop is a bakery located along Bell Boulevard amongst many other reputable eateries. When someone thinks about The French Workshop, their delectable baked goods usually come to mind, but not quite the interior of the bakery. Other than the rich smell of bread that filled the air, what most caught my attention was the bakery's open layout.
Open layouts are quite common in high-end restaurants, as it "adds to the experience" for the consumers. Well, I can attest to that. 
The French workshop is a relatively fancy bakery, which is evident by the interior and exterior setup that screams modest luxury. With the open layout, we get to see how each treat is baked with care and attention as we chow down on our favorite goodie. Most of the time, we buy cookies that are mass-manufactured in a factory, which eliminates the homemade taste that gives our food that extra boost. 
As for the food, while The French Workshop is well renowned for its baked goods, they also serve a variety of sandwiches and quick eats that are enough to satisfy that savory side of your cravings. While there I was able to enjoy a warm croissant sandwich with turkey and swiss, alongside their sweet cookies. The croissant base was nice and flakey. The taste was elevated from the salty but not overwhelming combo of the turkey and the swiss. The cookies were nice and soft, almost melting in my mouth with an assortment of chocolate inclusions I could choose from. All of this was enhanced by the sheer atmosphere the bakery had established with its architectural choices. 
Although the baked goods from The French Workshop might be somewhat costly, I can assure you that the quality will compensate for the additional expenses you might incur. If you ever find yourself on Bell Boulevard with a sugar craving, the walk to The French Workshop will be worthwhile, especially if you are meeting up with friends or your significant other. Some of their other locations include Garden City, Plainview and Wantagh. Enjoy!