Critic Rating: 7/10
Mexico has an extremely humid and hot climate, which is relieved by the chilly environment at their buffets. For students seeking to dine out during a vacation at Barcelo Maya Palace, La Hacienda Buffet is one of my personal favorites. There was a vast variety of food, so I didn't grow weary of constantly eating in the same place. Its open layout also enabled me to move freely among the buffet offerings, with everything consistently kept clean. The service was satisfactory, though a notable issue was the language barrier. For breakfast, I sampled a selection of the dishes served. Here are my overall thoughts on them.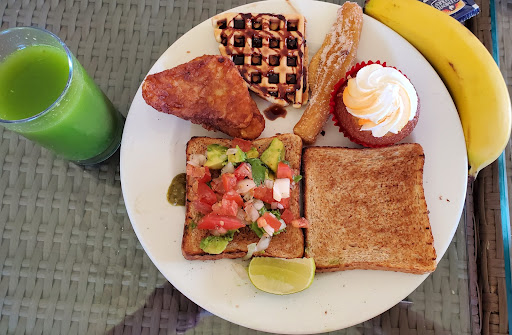 Avocado Toast: 8.5/10
This was delicious. The avocado was just soft enough. The tomatoes and onions felt like rich guacamole instead of regular avocados and tomatoes on top of toast. The only thing I disliked was how the toast got soggy in the middle due to the tomatoes. It felt as if I was biting on watery bread. Thankfully, the toppings were consistent in flavor. 
Waffles: 4/10
This breakfast item was not what I expected. It was a bit hard to bite through. The only topping available was the chocolate dressing I put on top, but it felt like eating bread with chocolate drizzle. 
Hash Browns: 6.5/10
The hash browns were a bit too oily, and some of the ones tasted burnt. Though, the pieces that weren't were soft and crispy. It's not as delicious as the ones in New York, but they'll definitely make a decent substitution. 
Green Juice: 8/10
This green juice was super refreshing and actually really tasty. When I tried all the food, I drank the green juice to clean my palate. My only concern was that the ingredients weren't listed, which may harm someone with an allergy (similarly with all the foods in the buffet, only their names are listed). When close to finishing the drink, the pulp gets thicker near the base, making it harder to drink. The drink would be improved if they filtered and solely provided the juice.
Churros & Cupcake: 6/10
These desserts could have been better. The churro wasn't fresh, and tasted a bit too oily. However, the sugar to churro ratio was well done. The cupcake itself was nice and fluffy, but the frosting alone would separate in my mouth. It was almost as if the egg white wasn't whisked in properly with the rest of the ingredients. 
Overall, I feel that La Hacienda Buffet could have been a bit more put together, in terms of ingredient lists. But for a place that has to serve thousands of people a day, I would say they did an adequate job. I definitely recommend going to this resort for a getaway and you definitely won't have to worry about your food service. However, if you have food restrictions, stay careful, and try to get there earlier for fresher food.