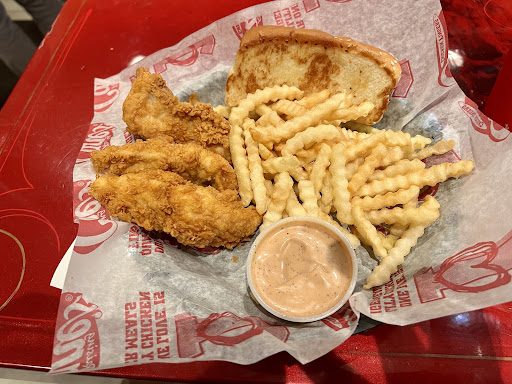 If you've been following the buzz in New York City over the summer, you may have heard of Raising Canes. They have seemingly taken over Times Square, with lines down the block, long waits to get a mobile ordering slot, and even Pop Smoke mini-concert. 
Unlike some other fast-food places that offer a couple of different variations of the same general product (think Popeyes having chicken nuggets, tenders, bone-in, etc.), Raising Cane's does not. In fact, when it comes to food, Raising Cane's only offers six distinct menu items: texas toast, chicken fingers, fries, coleslaw, a chicken tender sandwich, and Cane's sauce.
So, I went to take a look at the Cane's lineup to see what all the hype was about.
Chicken Fingers: 9/10
The chicken fingers here are extremely juicy, tender, and crunchy. I've tried their chicken three times at three separate locations, and every time I have gotten the same perfectly cooked chicken fingers. I also really like Cane's batter; it's lighter than some in other places and isn't as heavy. I'll admit that the coating isn't insanely well-seasoned, so if you're into plain chicken fingers, this may be unappetizing. But if you're like me and you enjoy saucing up your chicken, then Cane's sauce is your best friend.
Cane's Sauce: 10/10
It's difficult to describe Cane's sauce. It's a unique blend of flavors, and Raising Cane's is famously secretive about disclosing the ingredients. My best attempt at describing it is that it's somewhat like a combination of spicy mayo fry sauce and a lemon pepper seasoning blend. It's creamy, tangy, spicy, and peppery, hitting all the right notes for a dipping sauce. It more than compensates for the slight lack of seasoning on the breading. Raising Cane's goes all-in on their Cane's sauce. Unlike many other chicken joints that offer a wide variety of sauces, Cane's sauce is the sole option here, and it comes with every meal box. While this might not suit everyone, in my opinion, they've perfected the art of a single sauce, and I'm not complaining.
Crinkle Cut Fries: 6.5/10
Now, I acknowledge that the fries here can be a point of contention. They aren't as crispy or thick as the ones you might find at Shake Shack, and they aren't quite as salty. However, I personally appreciate their lighter and less oily texture, which sets them apart from many fast-food fries. They also make for a great vessel for Cane's Sauce.
Texas Toast: 8/10
This is also something that comes in the box combos, and honestly, when I first saw it, I wasn't expecting much. I thought it was a bit odd and gimmicky to include it. However, I absolutely love it. The bread is super soft and pillowy, with the perfect buttery toastiness. The sesame seeds on top add to the lovely, buttery, crunchy slice of dough, and oddly enough, it pairs effectively with the chicken. It's definitely not a gimmick, and I really appreciate that they offer it.
Overall, I truly enjoy Raising Cane's. I believe the breading is lighter, and the chicken is more consistent compared to Sticky's. Additionally, I find their meals to offer better value for money than Chick-Fil-A. Would I wait in line for 30+ minutes like some people have done in Times Square? No, but the line has been getting shorter as of late, and mobile ordering is a great option. Raising Cane's is set to expand to over half a dozen locations in NYC over the next year or two, so if you pass one, I highly recommend dining there.