With the start of school, busy mornings are returning, leaving no time for some students to sit and eat a normal breakfast. Smoothies are a convenient drink to boost energy, improve digestive health, and enhance brain function, so you can be fueled up for the day. They are great to drink on the go and can be made in less than ten minutes. No time in the morning to prepare the ingredients? No problem! Prepare these smoothies the night before, so all you have to do is blend them together the next day.
Strawberry Banana Smoothie: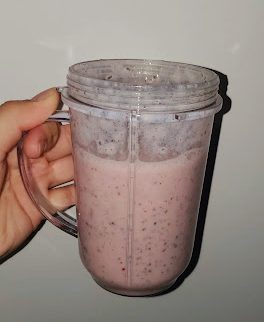 Ingredients: 
Strawberry 

Banana

Milk

Ice (optional)
Tips: Any type of milk is fine! (Ex: almond milk, soy milk, etc.)
This classic combination of strawberries and bananas is a favorite for many. To make this smoothie, you'll need bananas, strawberries, milk, and ice for coolness (chia seeds or other extra ingredients can also be added for additional vitamins). The ingredient ratio should be about one banana, eight to nine medium strawberries, and 1/2 cup of milk. Once blended, you'll taste the sweetness of the banana, followed by a hint of tanginess from the strawberries, balancing out the smoothie. This smoothie is on the sweeter side, so if you prefer more tanginess, use fewer bananas. It's great for regulating blood pressure and heart rate and makes an excellent post-workout drink.
Source: https://www.gimmesomeoven.com
"Red" Smoothie: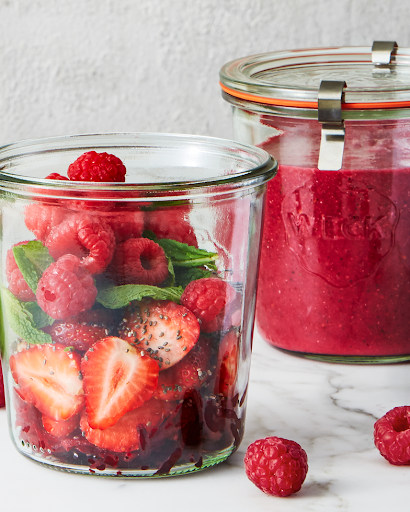 Ingredients:
Raspberries

Strawberries

Beets

Mint Leaves

Ice (optional)
Tips: Add 1/3 cup of water before blending, so the ingredients mix better.
Beets and berries might seem like an unexpected combination, but behold, as I like to call this smoothie, the Red smoothie (named for its predominantly red ingredients). It's an excellent source of gut fiber and can keep you full for several hours. The ingredient ratio should be a handful of raspberries, five to six medium strawberries, half a large beet, and a few mint leaves. If you enjoy tangy smoothies, this one is sure to please! The tanginess of the berries dominates the flavor, and depending on the amount of beet you add, you might not even taste its sweetness. The mint provides a refreshing touch to this smoothie, making it a delightful addition.
Source: https://www.prevention.com
Blueberry Banana Peanut Butter Smoothie (improvised):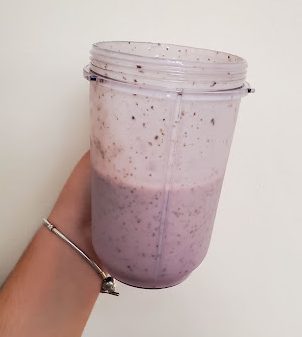 Ingredients: 
Banana

Blueberry silk yogurt

Peanut butter

Milk
Tips: For a more liquid consistency, add more milk.
For this smoothie, I decided to use my resources. Sometimes people don't have time to go and buy new groceries, but they still need to make breakfast! This drink is rich in healthy fats, vitamins, proteins, and more. The ingredient ratio should be one banana, one silk blueberry yogurt, one tsp peanut butter, and 1/3 cup milk. Thanks to the yogurt, this smoothie has a smoother texture, and it almost feels like you're drinking a Gogurt (of course, if you add more milk, it will be more liquidy). The combination of banana and peanut butter makes it sweet and filling, while the blueberry yogurt provides consistency and a hint of blueberry flavor.This improvised smoothie is a success, even without using fresh blueberries. Sometimes, it's okay to improvise.
Smoothies can be made in infinite ways, each with its own unique flavor. However, they all serve the same purpose: ensuring you're fueled until your next meal. Now, you can try some of these delicious recipes in the comfort of your own home and enjoy them wherever and whenever you like. Hopefully, they can become a convenient source of fuel for your on-the-go adventures!