Critic Rating: 6.5/10
In another installation of new social media famous restaurants in Forest Hills, we have Kyuramen. 
Kyuramen opened this July and replaced the former CheeburgerCheeburger on Queens Blvd. It's a nationwide ramen chain, known for their high tech and unique design. They have enclosed tables, and these honeycomb stacked tables actually require you to climb stairs. Fortunately, every table has a power outlet and a call buzzer. 
While I found the honeycomb table design cool, my big gripe is that because of its shape, the seats are actually benches, and you can't lean back. I found this slightly annoying, as I like to sit back and relax while waiting for my food. 
I ordered the Tokyo Tonkatsu Ramen with black garlic. The broth was incredibly delicious and packed with flavor, especially with the ground chili at the table. It was rich, umami-y, had a truly balanced flavor, and wasn't too salty. The noodles were a good texture, chewy and springy, and the accompaniments were fresh and balanced. The pork belly was tender, slightly charred, and was pretty good. If you decide to visit this restaurant, get the black garlic. It's a little earthier, and really adds to the broth's umami flavor.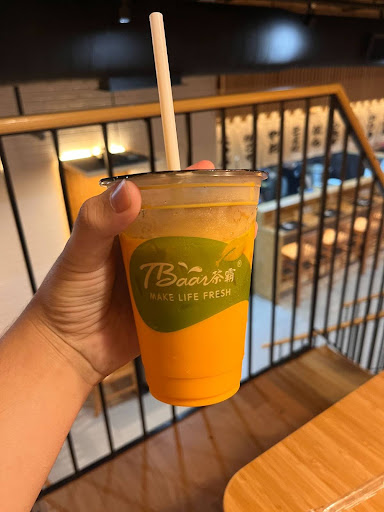 What can I really say? Thai Iced Tea always slaps. Sweet, rich, milky, you can't go wrong, and Kyuramen's certainly doesn't.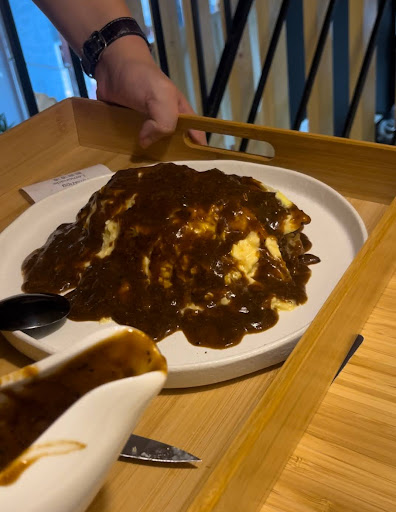 One of the signature dishes besides the ramen is the omurice. This viral Japanese egg over a rice dish has taken over the internet, captivating viewers with the mesmerizing sight of the eggs being cut open. Essentially, it comes as an omelet and when you cut down the center; it covers the bed of rice. 
This is the issue with the honeycomb seats. The stairs are incredibly narrow, leaving barely any space for the serving trays. In fact, my server accidentally brushed against the railing, causing the omelet to slide off the rice. They replaced it immediately, but I have to assume that is a semi-regular occurrence. 
Anyhow, I found the omurice to be underwhelming. The eggs were well cooked, but I found the fried rice extremely under-seasoned, and the gravy added little to the dish. I thought it was only okay, and not worth the $22 price tag per plate. I'll pass next time. 
Overall, Kyuramen is a mixed bag. The store offers decent ramen and drinks, with fantastic service and quick and attentive servers. However, I would argue you could get a similar bowl of ramen down the street at Tamashii Red for around $12, which is $4 cheaper. Even then, I wouldn't say Kyuramen is noticeably better. It's good if you need a pleasant lunch or dinner with friends, but if you're with a small party, then Tamashii Red may be a more budget friendly option.