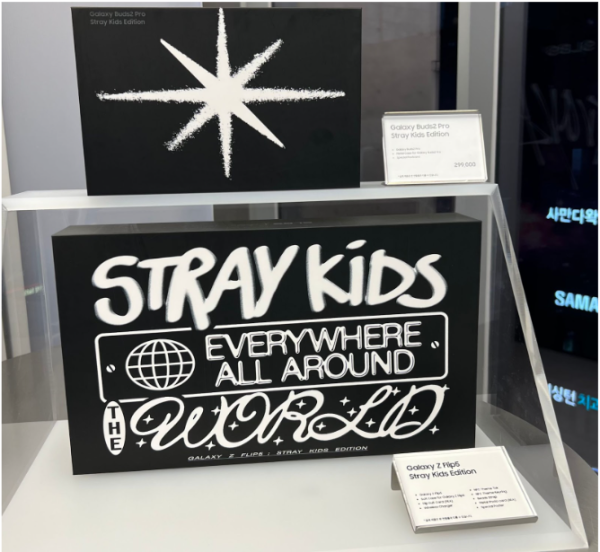 Picture taken by Adam Sayah
What do an international airline and Kpop music group have in common? As you may have already guessed, they each collaborated with Samsung to release special edition phones. But… why?
Following the announcement of Samsung's latest flipping and folding phones, aptly named the Z Flip5 and Z Fold5, two limited versions of these devices were secretly made available: Korean Air Edition and Stray Kids Edition. Each special edition comes equipped with unique accessories and a custom-made phone specifically designed for dedicated fans. The Korean Air version, for one, features a distinct blue wireless charger branded with Korean Air's logo, a keychain built from a genuine airplane part, a Z Flip5 phone with a custom layer of blue rear glass, and, most importantly, a gift card for more airline points. The collaboration extends deeper to inside the phone, where custom animations, including a lock screen where a plane window opens to reveal a cloudy sky, grace the smaller outer display.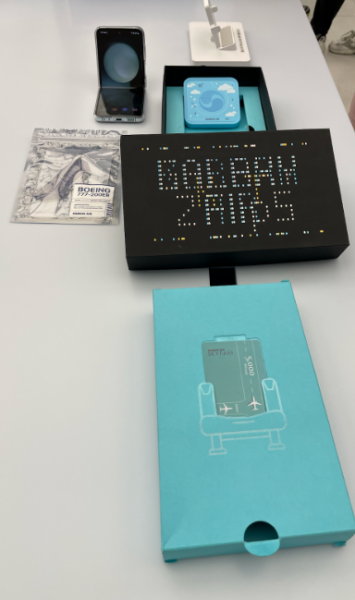 Picture taken by Adam Sayah
This is not the first time that Samsung has partnered with an outside company to release a specially branded product, though. Historically, Thom Browne, a New York-based fashion designer, has collaborated with Samsung to design themed devices alongside beautifully wrapped leather accessories garnished with blue and red stitching. While no such partnership currently exists, special edition phones have long been a staple of Samsung's lineup. By bringing together two unexpected communities, whether it be tech and fashion or tech and music, Samsung can directly cater to new markets previously ignored by the tech industry. This also elevates Samsung's brand as one of luxury (in the case of Thom Browne's collaboration) or youth (with Stray Kids) while increasing publicity for these brands.
So, are these special edition phones worth it? Well, for the avid passenger or K-Pop listener who is willing to pay more for added accessories, then they are a bargain*. However, for the vast majority of the population, it may be best to simply look beyond the fancy packaging and purchase standard models.
*Note: these versions are not yet sold in the US so pricing is not easily available