The Cruel Prince: A Tale of Bloodshed and Betrayal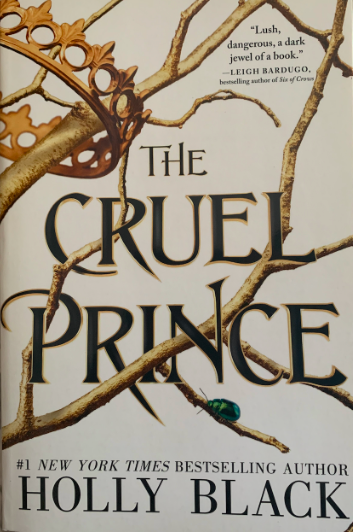 "If I cannot be better than them, I will become so much worse."
 The Cruel Prince by Holly Black is a fast-paced fantasy novel filled with political intrigue and action. The story follows Jude Duarte, who witnessed the brutal murder of her parents at seven years old and was brought, along with her two sisters, to Elfhame by their murderer. A decade later, Jude and her sisters have come to think of Elfhame as their home, having been raised lavishly by their abductor, a highly respected general named Madoc. However, Jude is often looked down upon by the immortal faeries living in this fantastical realm because she is a mortal. She despises her human fragility—no matter how hard she trains, she will never be as powerful as the faeries around her.
The book follows Jude as she attempts to showcase her full potential to the next High King, Prince Dain, and become a knight despite Madoc's disapproval. Impressed by her talents, Prince Dain gives Jude a shocking offer: she must work as a spy for him. And thus, Jude is thrown into a devious world of political corruption, deceit, and vicious murder. As secrets come to light, Jude is forced to make decisions that will affect the royal court—and the entirety of Elfhame. 
The writing style of this novel is exquisite and well-crafted. Holly Black flawlessly captures the essence of her fantasy world with intricate descriptions, from Elfhame's extravagant balls to its lush forests. The characters are also flawed, making them feel genuine and realistic. Jude is a fierce heroine who follows her ambitions, but still feels human. Her decisions aren't always moral, but she navigates her conflicts with an intelligent mindset, making her a unique protagonist.
Jude's rage is fueled by a number of factors—one of whom is Cardan, the youngest prince in line for the throne. While this book may be titled after him, Cardan's role does not become prominent until the second half of the book. Jude's relationship with Cardan can be described as dysfunctional and hostile at first, but as the book progresses, the two grow to understand each other's internal struggles. The author does an excellent job of developing this relationship throughout the book.
Though The Cruel Prince is commonly dubbed as an "enemies-to-lovers" romance, the book primarily focuses on royal politics as Jude becomes intertwined with government secrets. Seeing that this book is the first of a trilogy, the plot starts off slow and only becomes intriguing toward the second half of the book. I would recommend this book to a new reader wanting to enter the fantasy world, as the plot is simple to understand. With its clever betrayals and engaging plot, The Cruel Prince is a beautiful twist on the common fantasy tale. I certainly look forward to reading the rest of the trilogy.